Getting a quote after an accident can seem like a headache you're not ready to deal with. Even getting started can seem like an impossible process you don't know how to handle. How do you know you're getting a good deal? And how much time is this whole process even going to take?
You may be looking for a quote to do your car up to sell. We can offer different options to meet your budget. You might have had an accident with someone else's car and need to know how much it will cost or what to do.
Whatever your situation, we're here to help you or give you a little more information.
Take a deep breath and keep reading. We'll walk you through what you need to do step by step. When you're done reading, you'll be ready to handle this and know what to expect every step of the way.
If you have questions at all, go to the comment section at the bottom of this page and we'll do our best to give you the answers you need.
What to include with the request
When you're requesting a quote, there's no such thing as too much information. Let us know what you're driving and what happened. Also, we need to know what you want to be repaired.
This might seem obvious, but only some people want everything repaired! The more you tell us, the faster we can get back to you, and the more accurate your quote will be.
And, of course, seeing is believing. To get a quote, we NEED to see the damage. Don't worry; that doesn't mean we need to come out and look at the damage ourselves to get you a quote.
Of course, if you would like us to come out and give you a quote for repairs, we can do that too, but for a fee. However, we need to see what we're dealing with, whether in person or with pictures/videos.
Saving time.
It's not that we don't trust you; we need our team of experts to evaluate everything necessary to repair your vehicle. How deep is the scratch? Is the dent on a seam? There are a ton of factors that determine the complexity of a repair and thus affect the price.
We don't want to give you a quote and then charge you more because we didn't fully understand what needed to be done. The only way we can prevent this is to get a quality picture or video of the damages.
Also, please ensure that the car is clean and dry for the picture, video or when we come out to give you a quote. It's tough for us to get a good look at what we need to see if it's covered in dirt or other road gunk.
Furthermore, when the car's wet, it hides scratches and dings, making it harder for us to understand the damages fully.
Getting a quote
It's not as hard as you think, we promise. We offer a variety of ways to get a quote quickly. At Car Cosmetics, we offer a variety of ways to get a FREE quote within 24 hours guaranteed.
We try to respond within minutes, but this is not always possible, so please bear with us.
You can fill out our online form HERE and let us know what's happening. 
Want something even easier? Just send us a message on
WhatsApp, via iPhone messenger at 07803 242888 or try our Instagram here.
We also have a Facebook account;
you can send us a message at https://www.facebook.com/CarCosmeticSolutions.
Best Practice
When taking photos or videos, the best practice is to take different angles and distances away from the damage so we can have an overall idea of the damage and where it is.
Please see below some examples: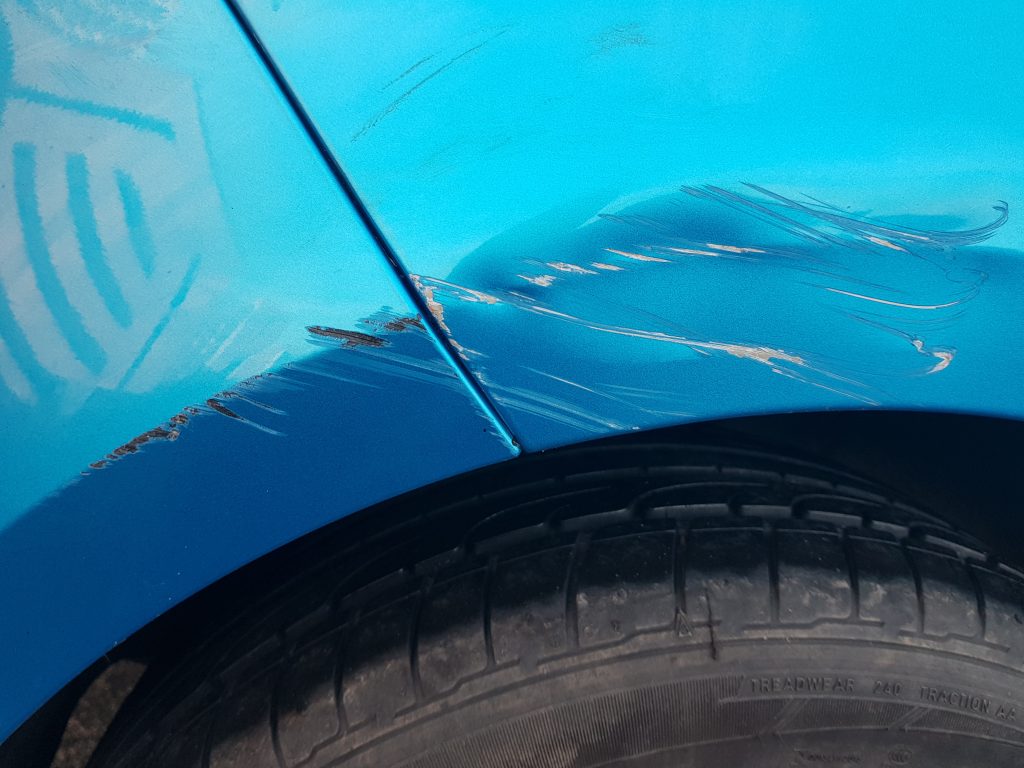 We want to make it as easy as possible for you to get a free quote. Of course, if you would like us to come out and look at your car to give you a quote, we can do that too! However, if we come out to give you a quote, there is a £50 fee.
All our other methods for getting a quote are completely FREE.
Even better, all our quotes come with NO obligation. So, if you want to know how much it's going to cost to fix the dent that has been there for years, or if you want to know if your current body repair shop is giving you a good deal, find out for sure, we're here to help you!
Please note that if you request an in-person quote from an insurance company, there is a callout £50 charge.
This is because insurance quotations require particular forms that we need to fill out. This additional fee is only applicable for quotes we give you in person.
All our digital quotations are FREE.
What to expect
Repairs aren't always cheap. With that being said, at Car Cosmetics, we pride ourselves in giving you every possible option for your repairs. We don't want to do a repair that you aren't happy with, and we don't want to end up charging you more than you'd like to pay.
So, when you get a quote from Car Cosmetics, you can rest assured that we'll work with you to find the perfect option for your budget.
Still, sometimes there isn't much that can be done without spending more than you might like. But no matter what, we don't want you to feel like you're getting ripped off. That's why we're extremely transparent about our pricing.
To view some of our rates for common repairs and what goes into getting the job done, click HERE. Just note that those rates are what we start at. Sometimes some factors lead to repairs costing more. If that's the case for you and your vehicle, we'll walk you through exactly why.
We want you to understand the process and walk you through it every step of the way. At Car Cosmetics, we pride ourselves in unparalleled customer service. So, go with a company you can trust and we'll show you the Car Cosmetics advantage.
Get Connected
Have a question you still need to be answered? Know what we should write about next? Let us know! We're always looking to hear from our readers and customers! Just send us a message HERE. Be sure to let us know where you're located and what you want to read about next!