Diamond cut alloy wheel refurbishments are gaining popularity day by day. Every modern vehicle has them as its most important component. Alloys with diamond-cut surfaces are gaining popularity. A diamond cut alloy wheel is an alloy whose painted surface has been partially or completely removed to reveal a glossy finish. After that, the alloy is coated to stop corrosion. Painting diamond-cut wheels is a long process and can take up to four days.
Diamond-cut alloys enhance the charm and opulence of modern cars. However, many owners won't be aware that mobile alloy wheel repair might be more challenging.
Diamond-Cut alloys can't be fixed at home since a new lathe is needed. The vehicle's Diamond-Cut alloys are first taken out, then they are restored on a lathe. Old lacquer and paint layers are removed by the lathe, creating a flat surface for repairs. The application and curing of a first-stage powder coat finish. A thin layer of the alloy is cut using a lathe once it has dried and cooled, and after that, a transparent lacquer is applied. The alloy is then heated again to complete the cure.
A mobile professional, however, would not be able to fix Diamond Cut Alloys from their mobile workstation. Some of our Car Care Centers have this equipment. The cost of diamond cut alloy restoration is determined by the extent of the damage and the number of alloys that require repair. You may locate your local expert here to see whether we can fix diamond-cut alloys nearby.
Why Choose Car Cosmetics For The Repair And Refurbishment Of Your Diamond Cut Alloy Wheels?
Car Cosmetic Solutions Ltd. has an outstanding customer service.
We can guarantee finishes that are durable and of a premium quality.
Moreover, our experts are present 24/7 to guide you and provide you with professional advice.
Our diamond cut alloy company in Leeds will ensure you of a total refurbishment which will make your wheels as good as new.
If you hire our services then you can stay rest assured that the money you spend will be totally worth it.
Also, we have a wide array of finishes available for you to choose from, so that you can pick up that ideal one which caters to your whims, desires and requirements.
The best part is that we offer a mobile service available at all hours. (coming soon.)
How Do You Know If Your Wheels Are Diamond-cut?
You can identify whether your wheels are diamond-cut or the contrary just by having a look at their front-face. Diamond-cut wheels will always have a very smooth and shiny surface, in fact their surface would very much resemble that of a cd.
Also, the wheels' inside faces would also be similar to their front faces. These wheels generally have very fine lines running across their circumference. The spokes of these wheels usually come with a painted finish and this is also an easy way to identify such wheels.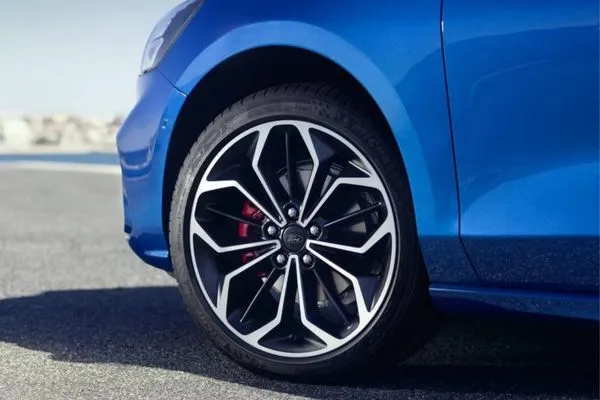 How Much Does A Diamond Cut Alloy Wheels Repair Cost?
Prices start at £95+vat (we can give discounts on sets of 4 alloy wheels) How long does this process take? Usually up to 4 days. Testimonial: James Kirk " Had all my wheels refurbished on my Mercedes E class and they looked new, since sold my car and got the top valuation on it good job and very nice guys"
Car Cosmetic Solutions Ltd. spares you a lot of your precious time and efforts. We come to your destination and take care of your diamond cut alloy wheels. We would remove the wheels from your vehicle and place it on axel stands. If you want to get only one diamond cut wheel repaired then we would also fit the spare one for you. In case you don't have enough room to support your vehicle on axel stands then we can also bring your vehicle to our depot with us. We can lock it up and secure it for you. Eventually once your diamond cut alloy wheels are ready, we will fit them onto your vehicle and make sure that they are balanced.
Get a Free QuoteOur services in West Yorkshire are exemplary as far as the repair of diamond cut wheels and their refurbishment is concerned. Contact us today and enjoy our flexible options, unique customer plans and competitive price rates. You will see for yourself that there is no better place for your diamond cut alloy wheels in West Yorkshire than our company.
Now a days more and more vehicles are being fitted with diamond cut alloy wheels. You may not be aware of the fact that your wheels are diamond cut, yet it is quite easy to identify them if they indeed are.
Just like all other things, your diamond cut alloy wheels may also require repair and maintenance every now and then. Car Cosmetics can provide you with the ultimate solution of repairing your diamond cut alloy wheels. We can repair any damage that might be caused to your diamond cut alloy wheels. You might be wondering how this process is brought about. Hereby we have elaborated the process for you so that you can get acquainted with the basics of diamond cut alloy wheel repair and refurbishment.
There are a number of similarities in the way diamond cut wheels and the standard painted wheels are refurbished. Both kinds of wheels have their paint and lacquer stripped off by placing them in an acid bath.
Primarily the tyres are removed.
Once the tyres have been removed, they are placed into the acid bath to strip them off their paint and lacquer.
The wheels are then cleaned thoroughly with a jet wash in order to end up with a fully cleansed and degreased surface. Any damage caused to the wheels is then repaired with the help of a number of techniques. These techniques vary since the type of and extent of damage caused to the diamond cut alloy wheels would vary.
After repairing the damage, the wheels are placed inside the oven.
This surface is then ideal for the application of Powder coat Primer.
The primer is flattened after its application in order to ensure that your wheels end up with a very smooth, paint-like finish.
It is now time to paint your wheels.
Your selected colour would then be applied onto the wheels.
These wheels would then be baked in an oven to seal the newly applied colour.
You can see this colour on the wheels' insets.
Until now the steps were very similar to the refurbishment of a standard painted wheel however from this juncture onwards the process will distinctly vary.
The wheel is now mounted onto a CNC lathe.
But before turning on the lathe, the wheels' edges and spokes are scored first
This mounting of wheel onto the lathe helps the wheel to end up with its diamond cut finish.
The wheels' rough edges are sanded.
The wheel is then machined. This is followed by the cleaning of wheel, which is again followed by heating of the wheel.
Once it has passed through all these stages, it is all set for the application of Lacquer. The wheels are lacquered in order to protect their polished finish.
Once the lacquer has been done, the wheel is again placed in to the oven to seal the Lacquer in place.
They are then allowed to cool down.
Afterwards the tyres are refitted into the wheels, once they have cooled down sufficiently.
Our diamond cut alloy wheel company in Leeds makes sure that your wheels are balanced before we return them to you and fit them back onto your vehicle.
FAQs
Can diamond-cut alloy make your car more attractive?
Any automobile will stand out from the crowd because of the better, sparkling finish that Diamond Cut Leeds creates. Most of the manufacturers are using this technique in all modern cars.
Are diamond-cut alloy wheels really worth it?
A set of diamond-cut wheels needs to be high on your list if you give your automobile a lot of thought when it comes to appearance. There is no better option for automobiles that look fantastic with diamond-cut rims, even if they are more expensive to acquire, more expensive to repair if damaged, and maybe unsuitable for any vehicle.
What is the turnaround time for diamond-cut alloys?
Conventionally, it takes seven days for diamond-cut alloy wheel refurbishment. But new techniques have been developed to make the process faster
Can the color of the diamond-cut wheels be changed?
The finishes that may be obtained are vast, including colored lacquering and unlimited color possibilities for the uncut surfaces, even though the cutting technique for diamond-cut alloys is the same.
Do AMG alloys have a diamond cut?
Their Diamond Cut procedure is incredibly accurate and provides the best finish for your alloy wheels, restoring the wheel's appearance by just removing a small layer of damaged metal.
What materials makeup alloy wheels?
An alloy wheel is made of several metals, most frequently magnesium or aluminum, and is what is known as an alloy wheel.