What repair costs are you likely to be looking at? Car Cosmetics, HERE FOR YOU.
Below are some estimated costs with typical repair times.
For a personalized quote, contact us Here. We typically respond within minutes, but we guarantee a response within 24 hours.
The quickest way is to send your images of damage and postcode to:
Send Lee your photos and location to 07803242888 on WhatsApp.
When getting quotes, don't always go for the cheapest quote; find a balance between good reviews and pricing.
You know the saying – 'you get what you pay for'. Most companies offering very cheap quotes won't do a good job, and you'll find the paint on your car peeling away after six months.
Professional and Convenient Collision Repairs
It's the first thing that crosses your mind after your vehicle gets dinged or scratched. How much is it going to cost to fix this? How long is my vehicle going to be in the shop? Is the shop even going to fix my vehicle the right way?
Car Cosmetics can put your mind at ease. We can fix any bumps, scratches, and dents with our mobile repair service that comes wherever you need them. Our team of experienced and skilled technicians puts our customers first with a hassle-free experience that will exceed your expectations.
Think you can't afford our first-class treatment? Think again. Our rates are guaranteed to be lower than insurance-mandated amounts.
If you're insured, you're covered. Not an insurance-covered accident? Not a problem!
We're cheaper than our competition, and our work will exceed your expectations. Don't believe us? Read testimonials from our previous customers.
What are you waiting for? Get a risk-free quote NOW. 
Our team responds within minutes 95% of the time, but it is guaranteed to respond within 24 hours.
Insurance Covered Accidents
We work with any insurance company. Our rates fall under any insurance company's allowable repair amounts. So, if it's an insurance-covered repair, you get first-class customer service and high-quality repairs without spending any extra money.
We've heard horror stories from our competitors. People who come to us and are worried about three concerns:
How long is the work going to take?
Am I going to be satisfied with the work?
What if you break something else?
We're here to put your mind at ease. We come to you to do the repairs – no more losing your car at the shop for a few days.
We can fix your car while you're in your office or home for the day. Our mobile repair service team comes to you when it's convenient for You.
Our team is highly skilled and trained body repair specialists. We take pride in our work and guarantee you to be satisfied with our repairs. You'll LOVE them.
Estimated Repair Costs
For a personalized quote, contact us HERE.
We typically respond within minutes, but we guarantee a response within 24 hours. The quickest way is to send your images and postcode to 07803242888 on WhatsApp.
CAR SCRATCH REPAIR COSTS
It's not just cosmetics; scratches lead to rust, and rust destroys your car. There's good news! Scratches are typically quick and easy to fix – and won't cost you a fortune, either.
Clear-Coat Scratches
If the scratch is only in the clear-coat and doesn't take any of the paint off, it's a clear-coat scratch. These scratches are the easiest and cheapest to repair. Typical costs are £35 – £60 per panel, and the time is 30 to 60 minutes per panel.
Paint Scratches and Scuffs
Deeper than just the clear coat, these scratches take some paint with them. No matter the scratch or scuff size, once the paint is off, the entire layer needs to be repainted.
That typically takes the cost to anywhere between £120 and £180 and the time to 2 to 3 hours.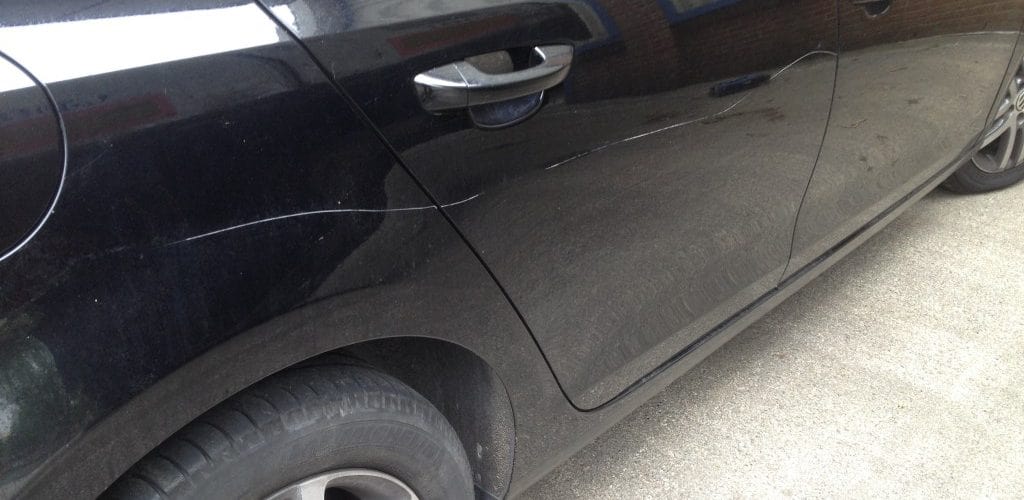 Deep Paint Scratches
Once you see metal or plastic, it's no longer just a scratch. It's deep. While these are the most expensive to repair, Scratches are also the most important to repair.
Once the base is exposed, it will rapidly corrode or rust. Typical repairs cost between £180 and £240 with a time of 3 to 5 hours.
CAR BUMPER REPAIR COSTS
Bumpers aren't there to absorb damage. Built into bumpers on today's automobiles are various sensors and safety features.
From lights to reversing sensors, everything needs to be taken into consideration when determining prices. Because of the complex features behind bumpers, the amount of time taken to remove them varies. The typical hourly labour rate for bumper removal is £60 per hour.
Of course, if we're taking the bumper off, it's probably because it needs to be fixed. Pricing varies depending on the repairs needed. From cracks to dents, we've got you covered.
After repairs, the bumper typically needs to be sanded, cleaned, and painted. Normally, this takes three to four hours, with an hourly rate of £60.
Costs of miscellaneous materials used in the repairs, from sandpaper to the paint itself, must also be allotted for when determining the overall cost.
If the bumper is damaged beyond repair, the replacement costs between £300 and £700 (part only).
However, if components behind the bumper are damaged and need to be replaced, this will raise the cost further. Potential costs range from £600 to £1,320, and the time is 2 to 3 days.
CAR DENT REPAIR COSTS
The cost of dent repairs varies depending on the location of the dent and its size.
Some areas on the vehicle are easier to repair than others. Because of this, sometimes the cost of repairing a small dent in a difficult position can be more expensive than the cost of repairing a large dent in an easily repairable position.
Paintless dent removal starts at £90 per dent and time of 1 hour but goes up depending on the size and position of the dent.
For dents that can't be repaired via paintless dent removal, you'd be looking at £280 to £450 per panel: time, 3 to 7 hours.
CAR ALLOY WHEEL REPAIR COSTS
Alloy wheel repair costs vary depending on a variety of factors.
For painted wheels, if the wheel has a light scratch around the edge, repairs cost between £120 to £200 per wheel.
The typical repair cost is £120 per wheel if the wheel is damaged along the face.
Machined wheel repairs typically cost £160 per alloy wheel.
A set of 4 diamond-cut alloy wheels fully repaired cost £500 and require 3 to 4 days.
Powder coating one alloy wheel typically costs £150.
A set of 4 powder-coated alloy wheels cost £400 and require 2 to 3 days.
Summary
Of course, all repairs vary in scope, and pricing will be unique to your vehicle.
The only way to determine how much it will cost to repair your vehicle is to get a personalized quote. It's quick, easy, and comes with no obligations.
We typically respond within minutes and guarantee that we'll respond within 24 hours.
Click HERE to request your risk-free quote! The quickest way is to send your images and postcode to 07803242888 on WhatsApp.
Are you looking to sell your car? Check out webuyanycar.com for price comparison.
If there are any repairs you'd like us to add on to this article, please add your ideas in the comments below. Thanks.