If you're a resident of Brighouse, you've undoubtedly seen some car enthusiasts driving around.
Some have flashy stickers on their windshields, whereas some keep their car in top condition to show their preference.
As life often happens in some unfortunate ways, accidents occur and many times are unavoidable. Your vehicle can sustain damage from dinged, scuffed, scratched, scraped, and more – but don't let that get you down!
As luck would have it, Car Cosmetics is the place to call for car body repairs in Brighouse.
Mobile Car Body Repairs in Brighouse
Car Cosmetics features a fully trained and licensed fleet of mobile and in-garage car body repair professionals. We offer vehicle repair services in and around Brighouse to best serve our customers.
For most cases, we can fully service your vehicle on-site at your home, office, or wherever is most convenient for you. This means you don't have to plan your day around your car being fixed; we drive out to your vehicle and take care of everything while you go on with your day.
If you'd prefer, we also offer garage service and can pick up and drop off your vehicle once complete, working seven days a week. We are a full-service mobile shop and can perform the following services (and more):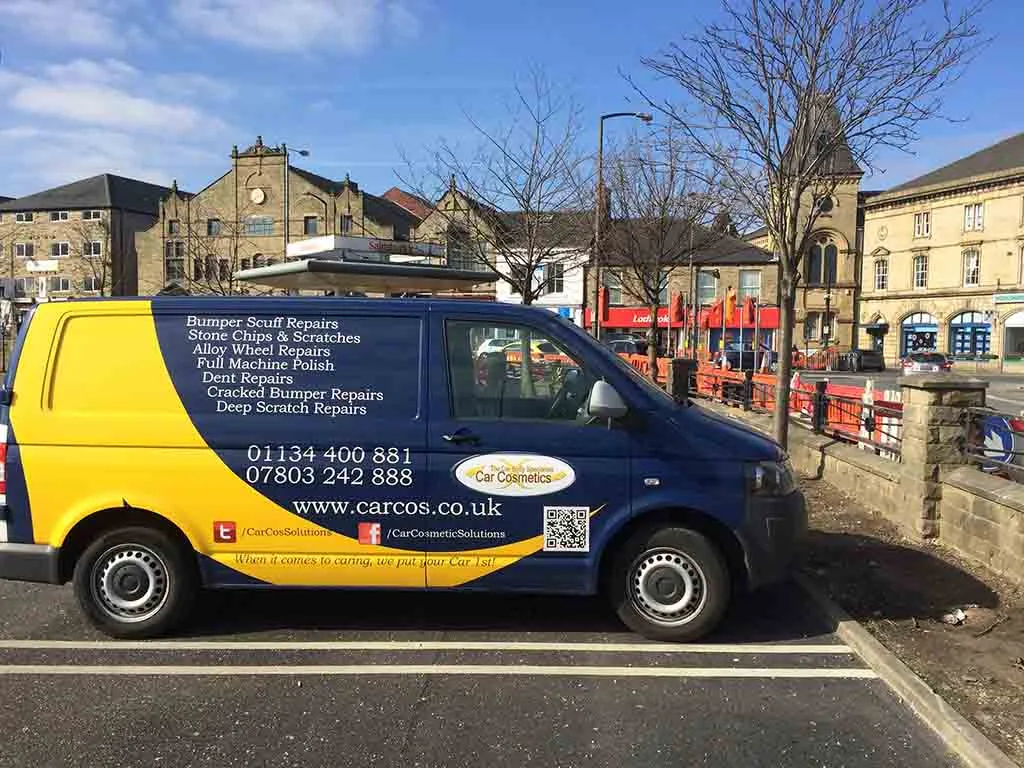 Rust Repairs in Brighouse
Rust can cause some serious cosmetic damage to your vehicle. A paint and clear coat serve as a protector for your car as well as making it look good. When your clear coat or paint gets chipped off, water can get down to the metal of your vehicle (hood, boot, door panels etc.)
Once this happens, it oxidizes the metal, forming rust where the water makes contact. This may seem like a localized and easy problem to fix. However, if left unchecked, the problem begins to spread. The longer the rust is left on, the further around the metal it can spread. This causes areas underneath the paint to become rusted and causes the paint to bubble up, aggregating the issue. If you catch the problem early and let Car Cosmetics repair the rust, you'll be good to go in no time.
We remove the rust, repair the surface, re-paint, colour match, and seal the area back up to protect it from further rust damage. You'll never be able to tell there was a problem in the first place!
DENT REPAIR SERVICES IN BRIGHOUSE
When you get a dent on your vehicle, whether large or small, you'll probably look at it every time you go to your car. This can be a real disappointment.
With today's technological advancements in dent repair, we can not only pop the dent out but do so without any damage to the paint.
We use specialized techniques and tools to achieve this, using carefully engineered P.D.R. tools that gently massage the dent back to a factory finish.
This method keeps the paint intact and reduces the overall cost of the repair, saving you money.
Don't let a dent upset you whenever you pass by your car; we'll take care of it without putting a dent in your wallet.
We offer a variety of motorcycle repair work in-shop and on-site as well, fairing repairs being one of them. We even guarantee the quality of our fairing repair work at a competitive price, so you can rest assured that the job will be done properly, effectively, and at a great price.
We'd love to look at the area you need repaired and provide a free, no-obligation estimate.
Car Cosmetics strives to be your go-to company for all car body repairs in Brighouse and all services for your motorcycle.
SHOWROOM MACHINE POLISH in Brighouse
If you plan on taking your car to an automotive show in or around Brighouse, Car Cosmetics offers the best polishing services.
We take great pride in making your vehicle shiny, slick, and smooth. You'll be sure to turn a few heads, driving down the street or having it parked at a show for others to admire. As time goes on, your vehicle is exposed to the elements. This begins to wear down your polish, clear coat, and paint.
This causes the vehicle to look aged and worn. By keeping a nice coat of polish on top, you dramatically enhance the vehicle's look while protecting it in the long run.
Your vehicle is not only an investment, but an extension of your style – a new showroom machine polish is the perfect way to protect your investment and show that you take pride in your vehicle.
OFFERING CAR BODY REPAIRS IN BRIGHOUSE AND MUCH MORE…
We offer our Brighouse customers other services as well. We can often perform custom work, whether installing body modifications, custom paint jobs, alloy wheels, all types of repairs, etc.
We take great pride in our ability to repair, restore, and maintain your vehicle while offering great prices with an unmatched level of customer service.
Car Cosmetic's mobile fleet of repair specialists is standing by to head out to your home or office to make any repairs necessary so that you don't have to be inconvenienced. Call us for a free estimate or to inquire about any custom services we may not have covered.
We're happy to provide custom work and will go out of our way to make you our next satisfied customer!